Just like past Windows 10 releases, the Windows 10 October Update is bringing a ton of new and exciting features to freshen up your PC experience. With features like a Windows News app and improved phone integration, Windows 10 Redstone 5 is going to revolutionize the way we use our Windows 10 PCs.
Windows 10 October 2018 (Redstone 5) Update name
While Redstone 5 is what it was called during development, the actual name is going to be the Windows 10 October 2018 Update. It's not as catchy as past launches like the 'Anniversary Update', or the 'Creators Update', but at least it has a very clear title, we guess.
Windows 10 October Update (Redstone 5) confirmed features
It can be hard to keep track of all the big new features and changes Microsoft is making in the next feature update to Windows 10, officially called the Windows 10 October 2018 Update and formerly codenamed "Redstone 5." So, we put together a one-stop shop detailing all the biggest new changes Microsoft is currently working on for Redstone 5. Microsoft may decide to cut or delay some of the features throughout the course of Redstone 5 development, but for now, here's what you can expect.
We'll update this article periodically with noteworthy features that get added to Redstone 5 preview builds over the course of development.
Read Also: How to Disable Automatic Updates in Windows 10
1. Dark File Explorer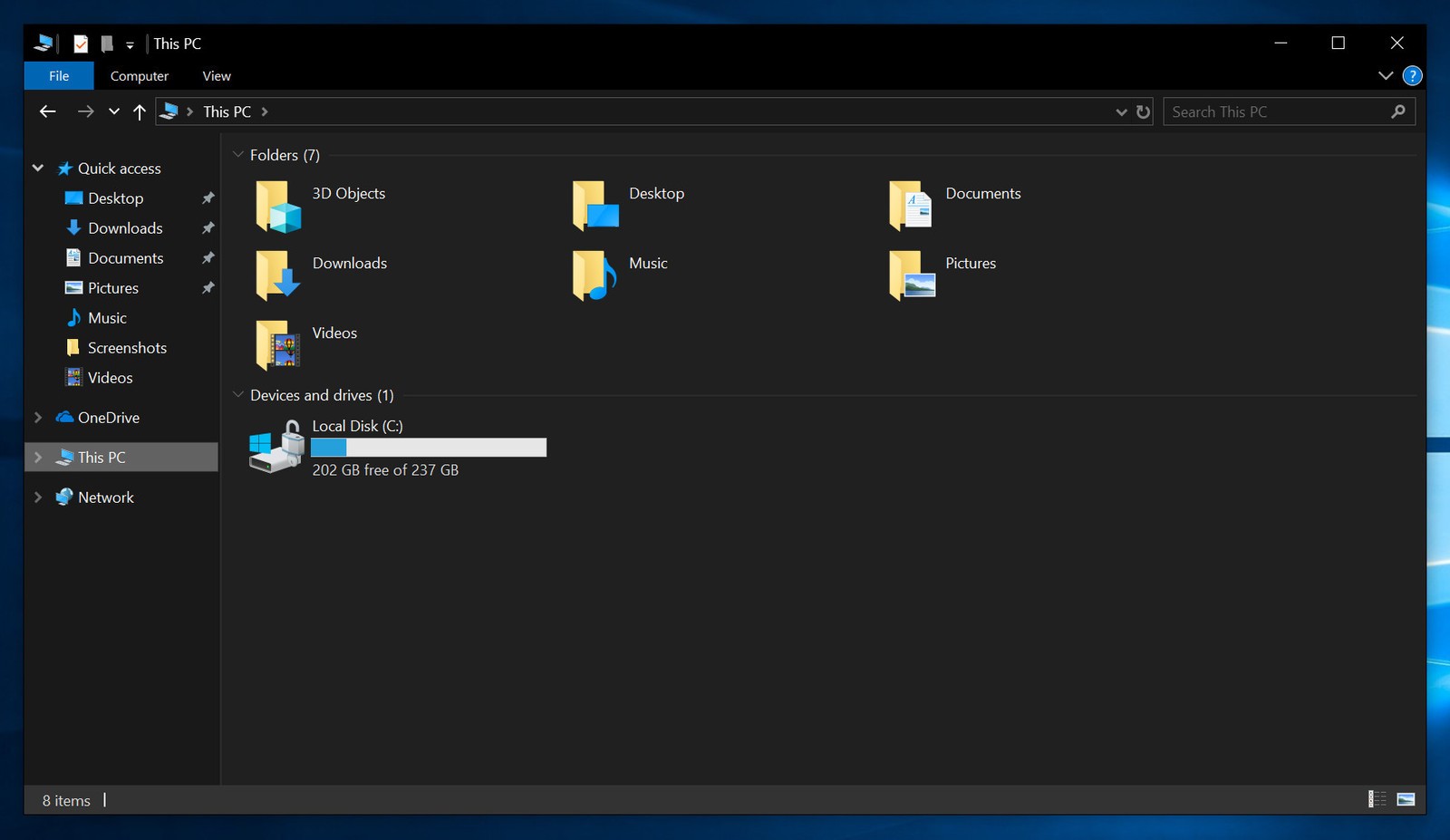 If you're a fan of the dark mode in Windows 10, Microsoft is finally (finally) adding the dark mode to the File Explorer and context menus. Yes, it's happening. Dark mode is one step closer to being all inclusive to the OS, meaning you won't be blinded in the middle of the night when you just want to go hunting for a Word document.
The dark mode in File Explorer will be enabled via the dark mode switch in Settings, so if you've already got dark mode enabled in Windows 10 and you upgrade to Redstone 5, File Explorer will automatically be in dark mode when the upgrade is complete.
2. Cloud Clipboard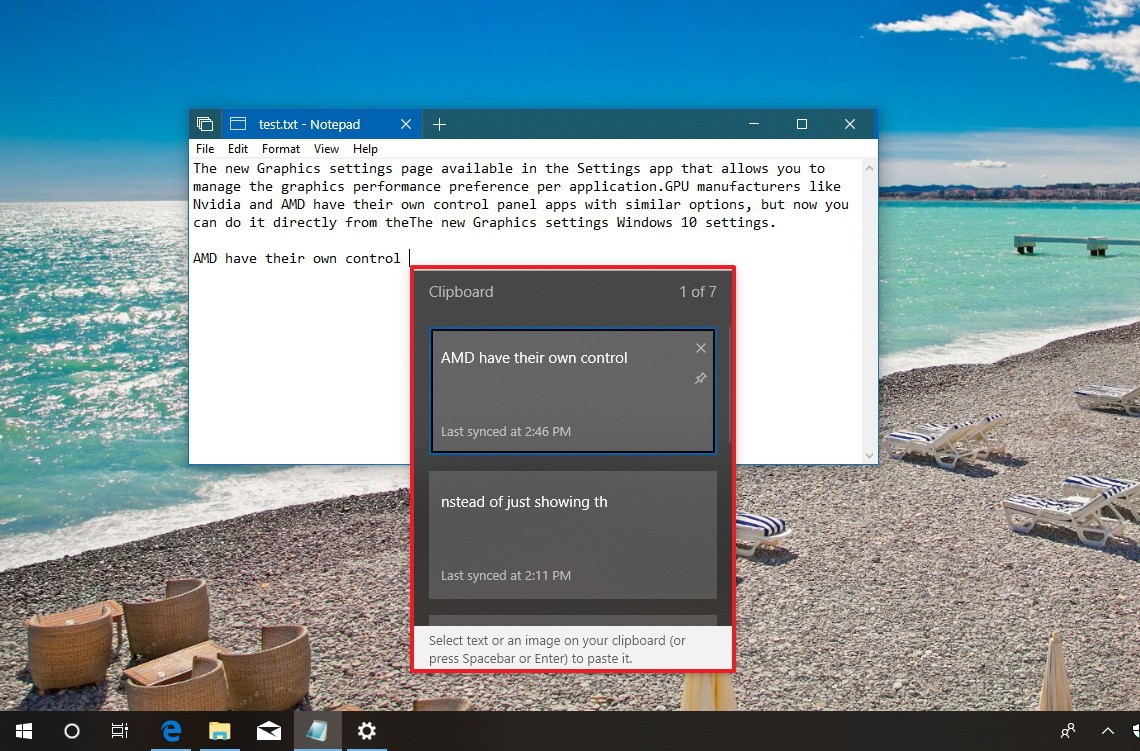 Copying and pasting content in Windows 10 october update is about to get a lot easier.
With Cloud Clipboard, Microsoft is creating a virtual clipboard that can be shared across all your Windows 10 devices, allowing you to copy something on one PC and then paste it on another. This is useful if you're someone with multiple Windows 10 devices. It may even come to smartphones at some point.
If you don't have multiple devices, Cloud Clipboard may still be useful. Cloud Clipboard logs all the things you copy in a single session, which you can then refer to later. This is great if you copied something in the morning and can't find it again. Just open Cloud Clipboard and look back through all the things you copied that day. It'll be there, allowing you to copy it back to your clipboard without leaving the app you're currently in.
3. Snipping Tool
If you're a frequent taker of screenshots, Microsoft has updated the screen snipping tool in the next version of Windows 10 with a new modern experience that works much better. Now, you can press ALT + Shift + S to open Screen Snip, and from there you have a few new options. You can crop a square screenshot, or a custom shaped one. You can also take a full-screen screenshot.
This new experience will then pop up a notification, which when tapped will jump you straight into a new dedicated Screen Sketch app. In short, this app allows you to edit the screenshot you just took, with the ability to add annotations with Windows Ink or text. It's a much more refined screenshotting experience that many will love.
4. New search experience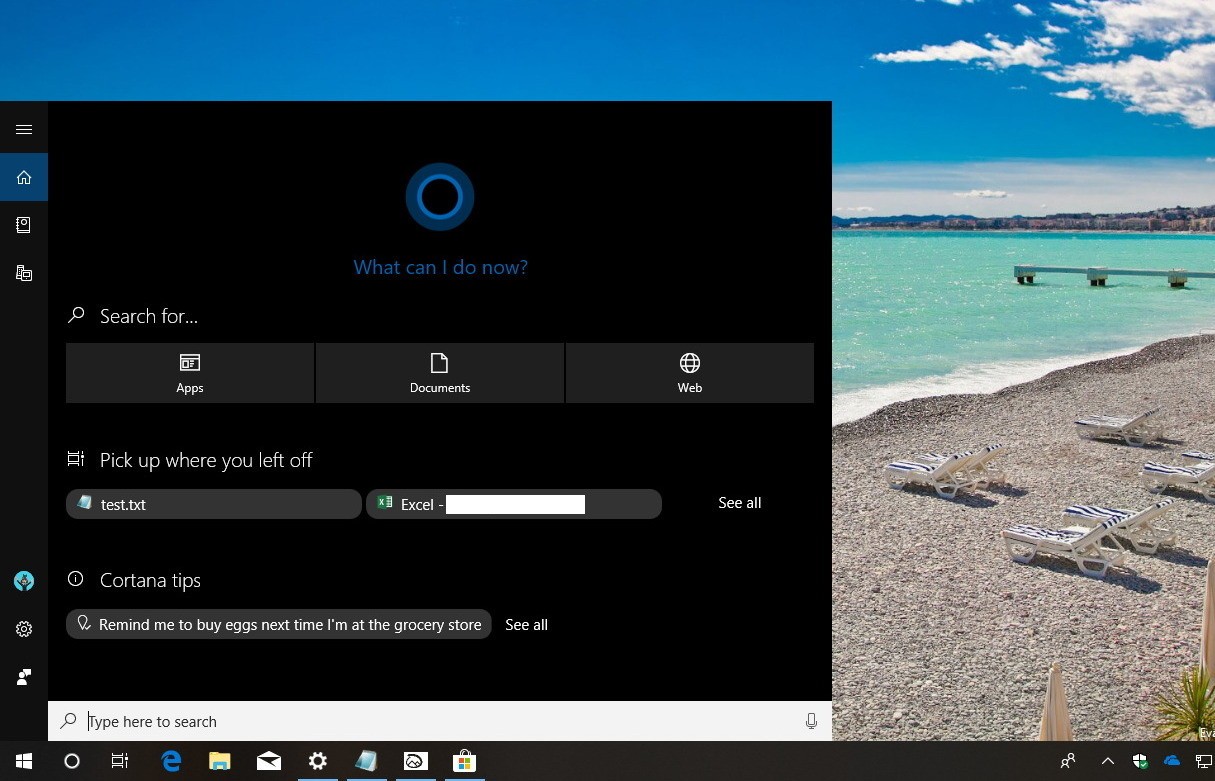 Microsoft is listening to its users and pulling Cortana out of Windows Search in Redstone 5 … sort of. The next version of Windows 10 october update will have a new search experience that deemphasizes Cortana's features and puts search at the forefront of its UI. Different search categories are showcased at the top of the search panel, with Cortana's pick-up-where-you-left-off activities being showcased below that.
Searching for stuff also has a new experience, with a new dual-panel UI that makes searching for apps, documents, and more, much easier. Search is much wider now, allowing for more content and information to be displayed on the screen.
5. New Game Bar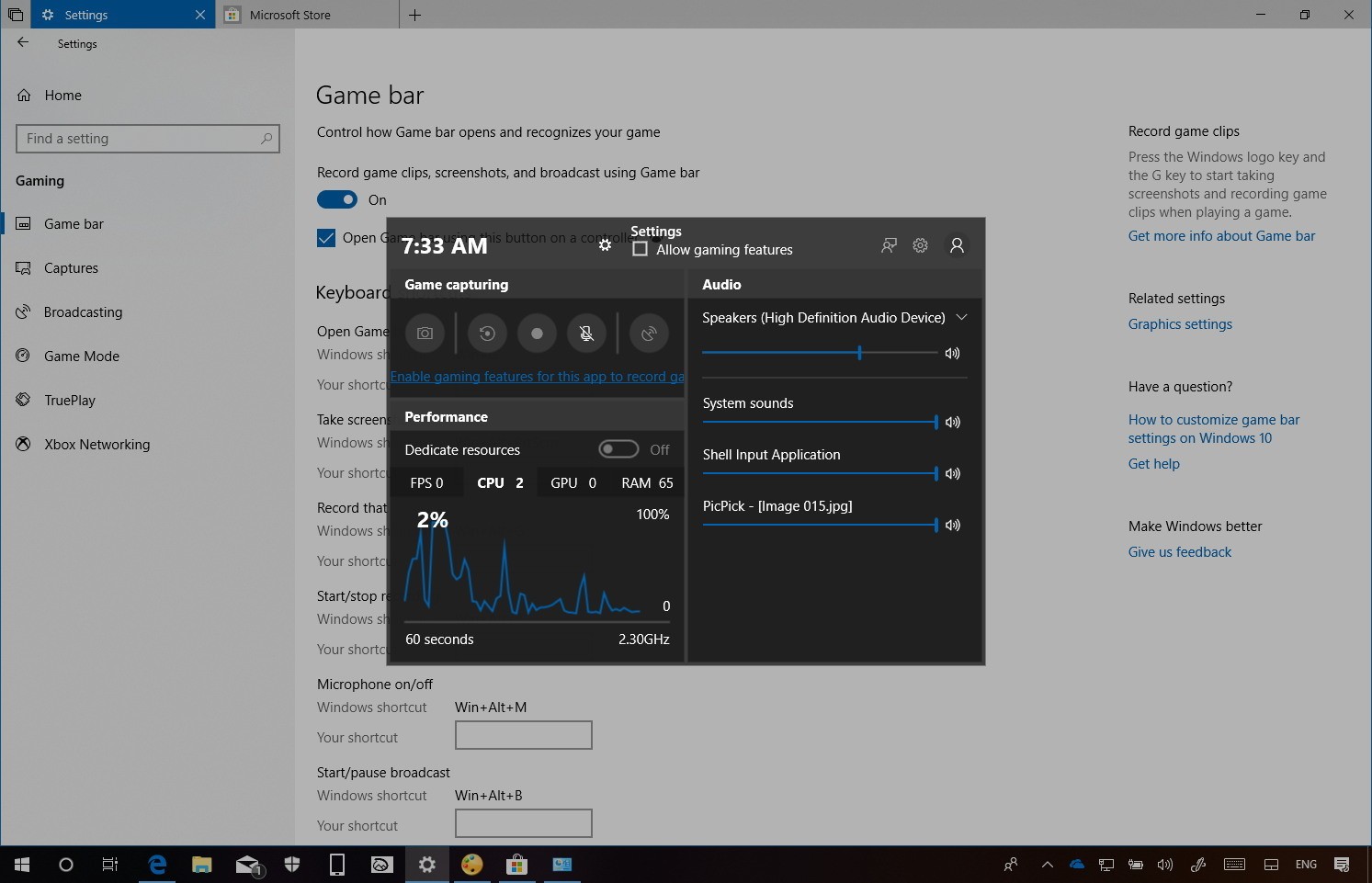 Are you a gamer on Windows 10? Well, Microsoft has completely redesigned the built-in Game Bar to make it more useful for PC gamers when within a game. No longer is it just a quick-bar for taking screenshots and recording video; it now showcases useful performance information such as CPU, GPU, and RAM usage. It's also been redesigned, featuring a much cleaner UI that's easier to understand.
All its original social features are still there, but it's now much more detailed and useful for even hardcore gamers who don't use Mixer. It's also now accessible from the Start Menu on Windows 10 october update, to better highlight it as a feature for those who might not know it exists.
6. Microsoft Edge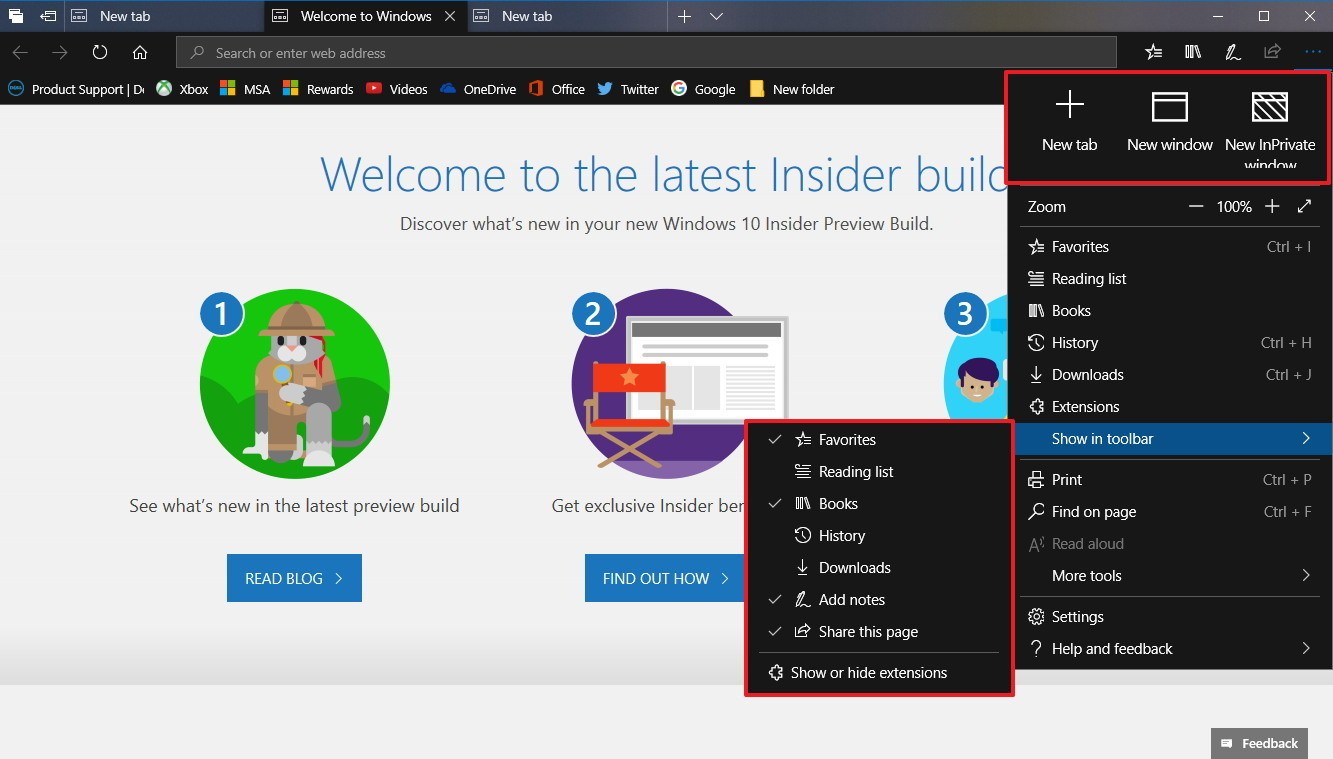 As with every new Windows 10 update, Microsoft Edge has received a notable list of changes, including better performance, a new Hub UI and Setting UI, and subtle design tweaks such as drop-shadow effects behind tabs. If you've been holding off using Edge as your default, it might be worth giving it another try with Redstone 5.
7. Notepad

You read that right, for the first time in a long time, Microsoft has updated the legacy Notepad program in Windows 10. It now features Unix/Linux line endings (LF) and Macintosh line endings (CR) in addition to being able to zoom in and out of a text, right-clicks text to search with Bing, and wrap text when using Line numbers. Pretty neat!
So much more …
8. Improvements to Windows 10 Fluent Design
Microsoft introduced elements of the Fluent Design user interface with the April 2018 Update, and at its Build 2018 event, it showed off more effects and features that will come in Redstone 5.
So, expect more apps, including standard Windows programs, using the Fluent Design interface, and there will be some eye-catching 3D effects for Mixed Reality experiences.
9. Storage Sense
In the Windows 10 October 2018 Update, Microsoft implemented a new storage feature called Storage Sense. This will automatically free up storage space on your hard drive by getting rid of old files you don't use anymore. It'll take these files and back them up on OneDrive, so you'll still have access to them – without clogging up your hard drive.
You'll have to manually enable this feature in Redstone 5, but it could be a great option for anyone that doesn't want to manually sort through hundreds of files to optimize storage performance.
10. Better Progressive Web Apps
Progressive Web Apps (PWAs) are websites (or web apps) that are implemented as native apps and act just like a normal app would, giving users notifications, live tiles, and even working offline in Windows 10. At Build 2018, Microsoft showed how these web apps will integrate better with Windows 10 in Redstone 5.
They will look and behave more like standard Windows 10 apps thanks to an improved interface, and Microsoft also revealed that you'll be able to download the apps directly from its Edge web browser.
11. Improved Your Phone app
Microsoft is making a big deal of having Windows 10 work with all manner of devices, and with Redstone 5, we should see a radically improved The Phone app that will allow you to easily interact with your smartphone through Windows 10.
This is done by downloading the Your Phone Companion App (previously named Microsoft Apps) on Android. This app still has the ability to highlight other Microsoft Android apps, though will now allow you to interact with your PC through your phone.
You'll be able to read and reply to text messages from your Windows 10 device, as well as easily share files, photos and more between your PC and your phone.
12. Microsoft Mixed Reality improvements
It wouldn't be Windows 10 without improvements to Mixed Reality, and the October 2018 Update should have them in spades. In one of the most recent Windows 10 october update Redstone 5 builds, Microsoft included a variety of improvements to Mixed Reality quality of life, including the ability to seamlessly take screenshots and immediately import them into an email.
And, if you're using a backpack PC to fuel your Mixed Reality desires, you're in luck. Microsoft has removed the requirement to connect a monitor to use a Mixed Reality headset.
These are just the biggest new features and changes coming in the next version of Windows 10.
How to get the Windows 10 October Update final release before anyone else
Although you're still getting an update labelled as "pre-release," once the version 1809 is available in the Release Preview ring, it's the final code without any last minute cumulative updates, which the company may need to release to address any particular issue.
Warning: This is a friendly reminder that modifying your installation may cause irreversible damage to your current setup. It's recommended to make a full backup of your PC before proceeding in case you need to rollback.
1. Open Settings.
2. Click on Update & Security.
3. Click on the Windows Insider Program.
4. Click the Get started button.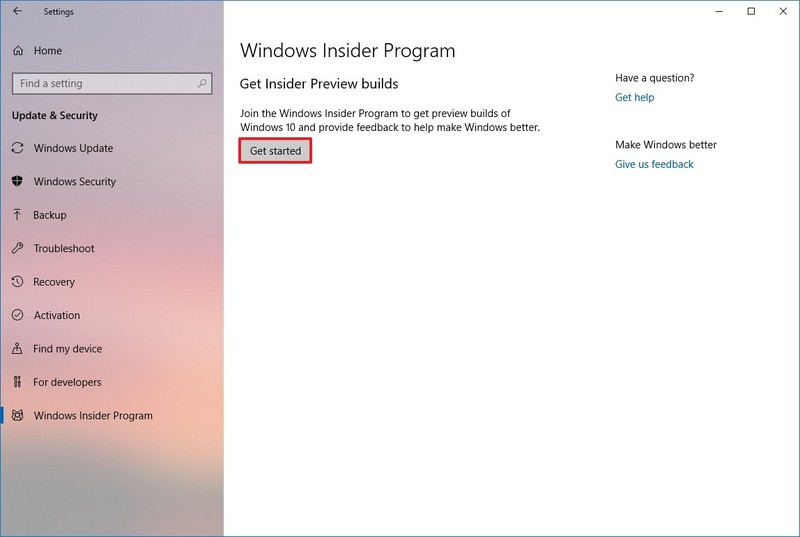 5. Click the Link an account option.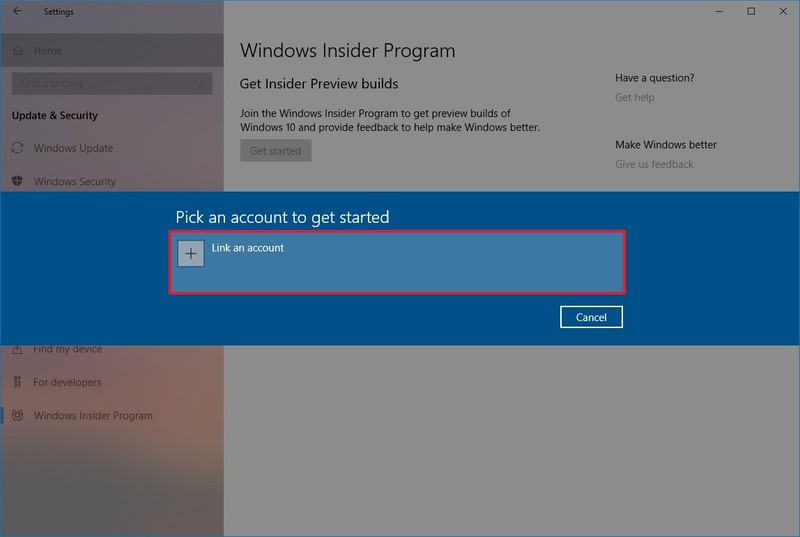 Select your Microsoft account from the list or use a different account.
Click the Continue button.
On the "What kind of content would you like to receive?" page, use the drop-down menu, and select the Just fixes, apps, and drivers, which is the "Release Preview" option.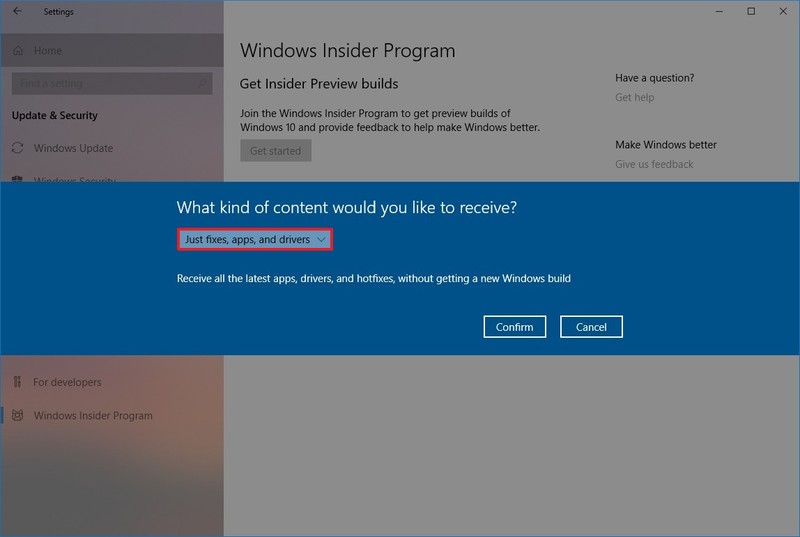 Click the Confirm button.
Click the Confirm button one more time to agree to the terms.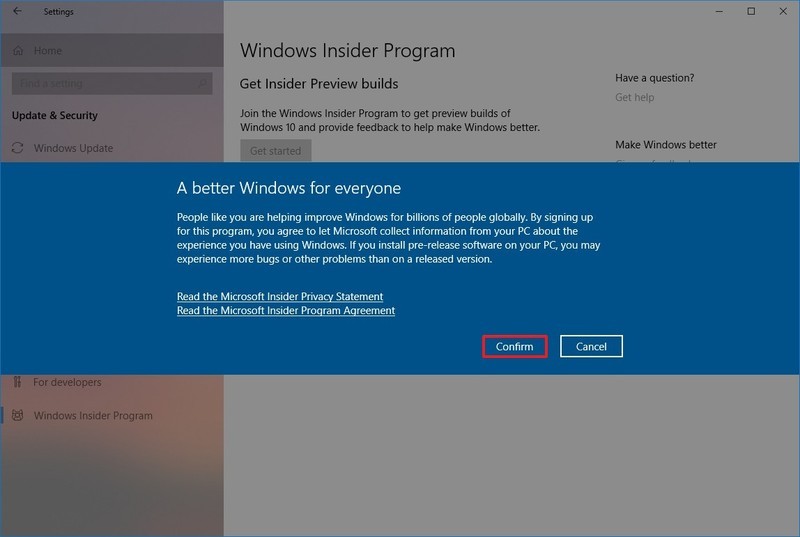 Click the Restart button.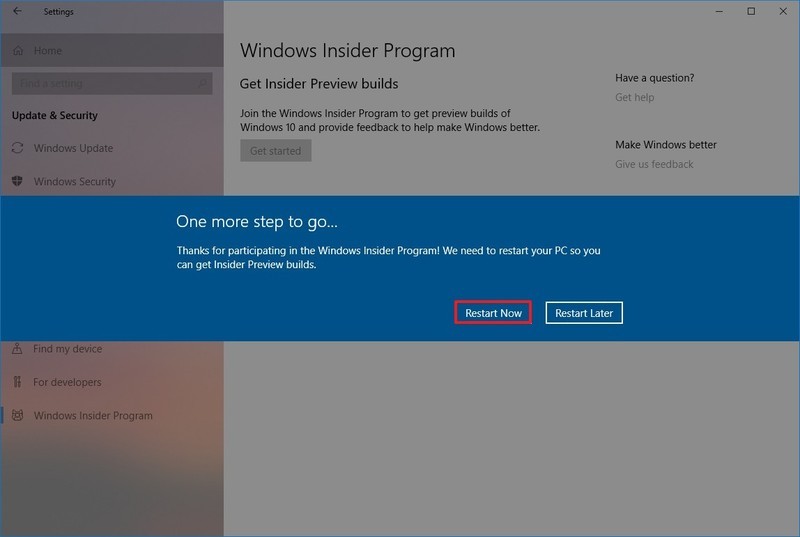 Once you've completed the steps, as soon as the Windows 10 october update version 1809 is finalized, and it becomes available in the Release Preview channel, your device will get it automatically.
You can also force the feature update going to Settings > Update & Security > Windows Update, and click the Check for Updates button.