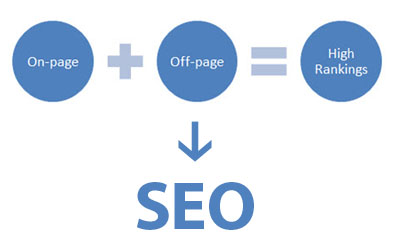 SEO (search engine optimization) is a method of changing the rank of a web page or a website in search engine results using keywords or phrases. Search Engines like Google, Yahoo, Bing, etc. It is an approach of techniques to increase the number of visitors to a website.
Your search engine optimization strategy can be divided into two different categories: on-page SEO and off-page SEO. Both are crucial to the success of an SEO campaign, but they're on completely different sides of the fence when it comes to improving your search engine rankings.
On-page: what is your site (or your page) about?
Off-page: how authoritative is your site? How popular is it?
What is On-Page SEO?
On-page SEO (also known as "on-site" SEO) is the act of optimizing different parts of your website that affect your search engine rankings. It's stuff that you have control over and can change on your own website. Here are the biggest factors included.
Click here for On-page SEO, it's techniques and benefits
Title Tags
Headings
URL structure
Alt text for images
Fast-loading pages, or page load speed
Page content
Internal linking
On-page SEO ensures that your site can be read by both potential customers and search engine robots. With good on-page SEO, search engines can easily index your web pages, understand what your site is about, and easily navigate the structure and content of your website, thus ranking your site accordingly.
What is Off-Page SEO?
Off-page SEO refers to the techniques that can be taken outside of a website,  to improve its position in search engine results page (SERPs). Off-Page SEO includes not only link building but also social media promotion, bookmarking, etc. It also was done with promotion works of a website. It is the best way to get more website traffic.
The biggest off-page SEO factor is the number and quality of backlinks to your website. Some examples of ways you can build links to your website are:
Click here for Off-page SEO, it's techniques and benefits
Creating awesome content that people want to link to because it is valuable.
Social media shares of your content that ultimately generate links.
Outreach emails to influencers in your industry that ultimately link to you.
Guest blogging on sites related to yours.  These guest posts will have links back to your site.
While link quantity is still important, content creators and SEO professionals are realizing that link quality is now more important than link quantity, and as such, creating shareable content is the first step to earning valuable links and improving your off-page SEO.
How many links do you need for good off-page SEO?  That is a tough question and it's going to be based on the Domain Authority of your competitors, as you want to make sure you're playing in the same sandbox. SEOs also used to believe that buying links was a valid way of link building; however, Google will now penalize you for buying links in an attempt to manipulate Page Rank, and you can also be penalized for submitting your links to link directories whose sole purpose is to increase your Domain Authority. Again, quality wins out over quantity when it comes to link building.
Which One is More Important?
It's not about choosing between on and off-page SEO.  That would be like choosing between a foundation or a roof if you had decided which to use for your house. On-page and off-page SEO work together to improve your search engine rankings in the complementary fashion.